Wanting to take the live streaming plunge personally, for your business or for your church? Here's some great tools to help you get started. This guide is being developed at the moment, so please come back for additional suggestions in the next few weeks (Updated: May 27, 2021).
Table of Contents
Streaming Software: OBS Studio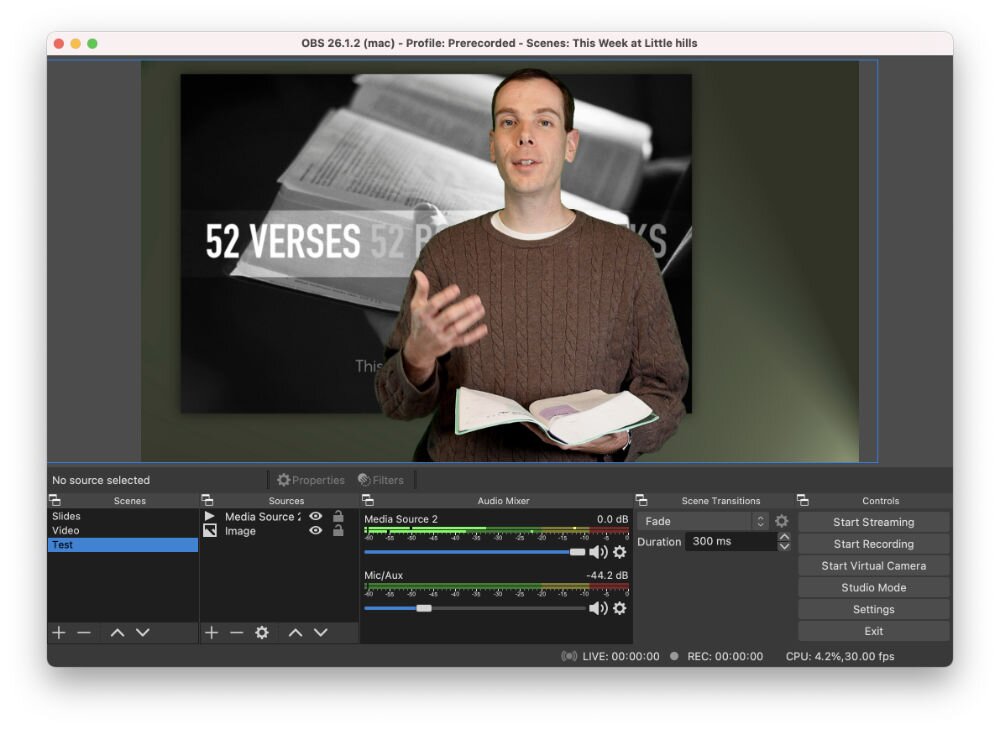 OBS Studio puts the power of a professional level video switcher on your computer for free.
OBS is the software I really don't want to use and yet keep recommending. Is it the most stable, the most intuitive or the best suited for my preferred MacOS environment? No. Is it still the best choice currently available? For most people, I think the answer is yes. With an increasing gulf in prices between the (free as in price and freedom) OBS and options like WireCast, which dropped its low-end version, and eCamm Studio, which has gone through several major price increases and a move to a subscription model, you owe it to yourself to check out OBS before jumping to other software. As an added bonus, OBS looms large as the most popular choice in live streaming, so what it lacks in fit and finish, it gains in an absolute mountain of how-to videos, tutorials and everything else you need to do a professional live stream.
OBS Project, Free
Pros:
Powerful, flexible, widely used and active community.
Cons:
At times buggy, less than ideal Mac support, significant learning curve.
On-Screen Graphics: Singular.live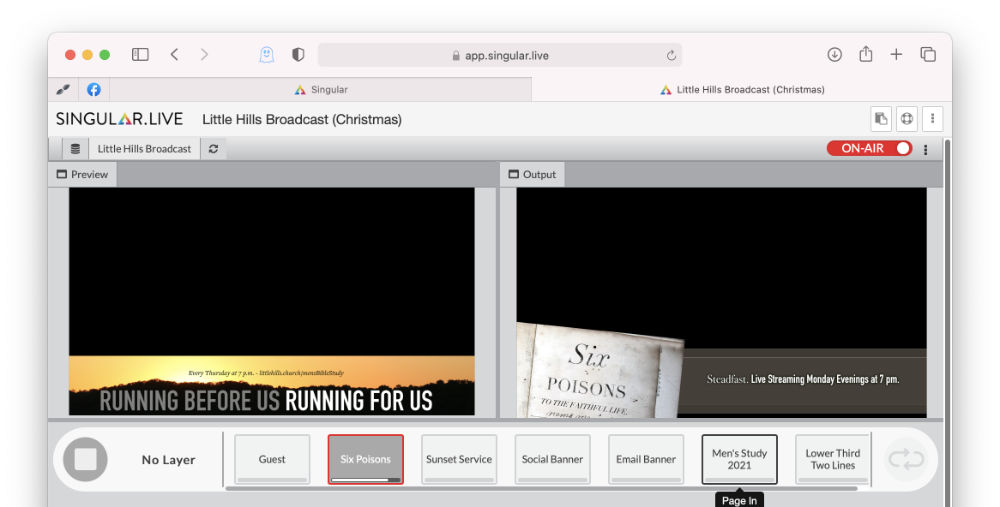 Singular.live's lets you create a series of buttons to fire the graphics you'll want during a given stream.
While some of the more expensive streaming packages come with sophisticated one screen graphics tools for lower thirds (to show your name or other helpful information, for example), some like eCamm have only rudimentary tools and OBS has almost nothing. Singular bests everything we've tried, with TV studio quality graphics that can be designed in an interface that will feel relatively familiar to users of graphics tools such as Adobe AfterEffects or Apple Motion. There is a significant learning curve to get everything just right, but the basics are simple and lots of great templates are included to help get you started. Non-profits such as churches can even apply for a free account, which helps given that Singular is a fairly hefty investment in line with its robust power.
Singular.Live, Free (Non-Profit); $1,000/year (Business)
Pros:
Power, well designed and cloud-based for easy collaboration.
Cons:
Priced out of reach for starting individual streamers who are not part of a non-profit.
All In One Solution: The Mevo Camera and App Package
Mevo cameras are tiny, all-in-one streaming solutions. (Source: Mevo, Inc.)
If you want to jump into something better than using your cell phone to broadcast to Facebook Live, but you aren't ready for the complexities of streaming software and rigging up computers and camera equipment together, the Mevo offers a great in-between point. The company's cameras are good quality, their apps (which run on iOS or Android) are well thought out, and their reasonably priced $180/year service plan through Vimeo nets you good multi-streaming service, basic on-screen graphics and more. I also appreciate that the company is very good at caring for its customers with older hardware, even after it is discontinued. You can read a longer overview I recently published here on OFB.
Mevo, Inc., $379 plus $180/year to unlock all features
Pros:
Capable of providing mid-level streaming quality with just a small camera and your phone or tablet.
Cons:
Subscription plan, on top of hardware purchase, required to unlock some of the app's built in features.
Video Capture Devices
If you want to up your live-streaming game, you are going to want to use a video capture device to pull in video from a higher quality camera. Fortunately, these devices have dropped dramatically in price over the last year. In the coming weeks, we'll be reviewing a number of them, starting with the Esywen USB 3.0 Capture Device.