Aug 10, 2022
Unique and a Typist's Dream
The B21 doesn't look like an ordinary keyboard. Crowdfunded in mid-2021, it appeared with its two brightly colored knobs ahead of present onslaught of turny-thing keyboards. Relegated to Indiegogo while Epomaker nearly simultaneously launched the more conventional AK84S on Kickstarter, the B21 felt almost forgotten. But it hasn't been on my desk.
I'm on the Epomaker customer newsletter mailing list, so I was notified when both the B21 and AK84S were preparing to begin crowdfunding. It felt confusing: why are they crowdfunding two keyboards at the same time? Why do the feature sets of them seem so different?
I can't answer the first question (and I will get to the second in a bit), but the odd arrangement did manage to show that many people prefer a more traditional type of keyboard (or prefer RGB backlighting). The AK84S's initial funding was nearly three times that of the B21 and — personally — the AK84S's subtler design and broader feature set seemed better suited to my needs. But something kept intriguing me about the B21 and right before the crowdfunding ended, I jumped in.
Thankfully, if you are in the market for a keyboard today, you won't have to wait months to receive the board, it is now a regularly offered model from Epomaker. That's a good thing, because it gets so much of what a typist will want in a mechanical keyboard dead right. (Check out my mechanical keyboard guide for an overview of mechanical keyboard advantages over lesser boards like most of us end up with today.)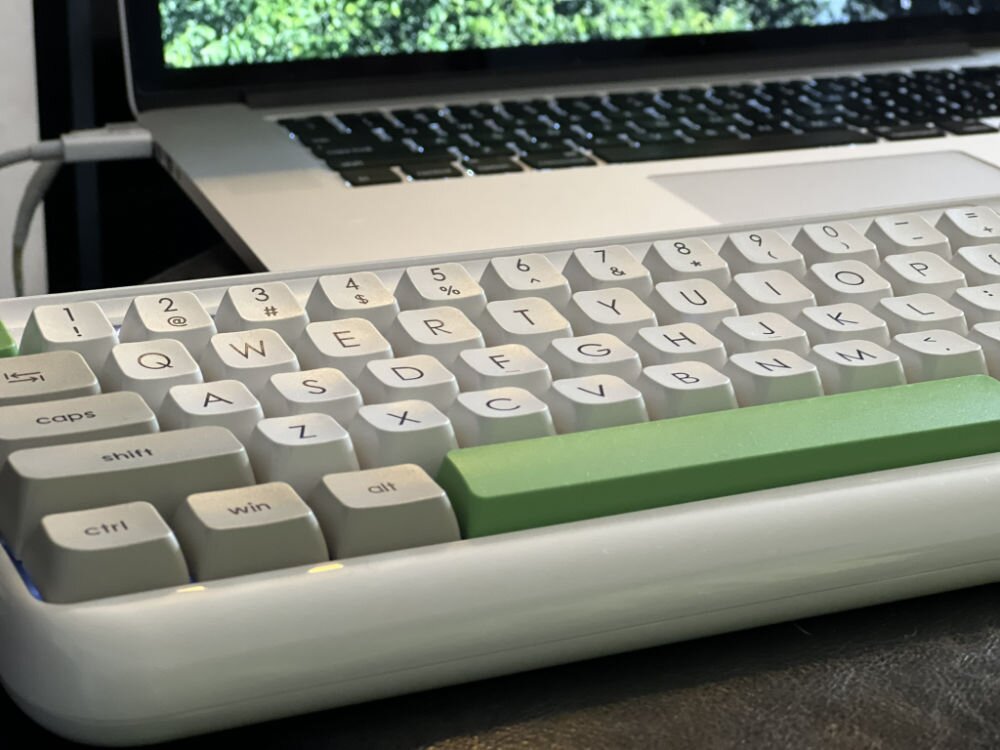 Yes, the board is plasticky, but when it is this thick and well refined, plastic can be pleasant. (Credit: Timothy R. Butler)
Epomaker's other offerings appear downright staid compared to the B21, sporting as it does rose-metallic knobs alongside green accent keys on the keyboard proper. But, unlike offerings such as the AK84S or GK68XS, this board only comes with white, somewhat muted backlighting, surprising given its status as the "loud" sibling in Epomaker's offerings. That isn't to complain, I prefer monochromatic backlighting and how it blends in on the desk, but this is certainly not a "blend in" kind of keyboard.
The reason for this incongruity — and other feature differences we will see — has to do with Epomaker's business model. While the other keyboard manufacturers in this guide have contract deals for factories to produce their boards, Epomaker is one step removed, partnering with existing (Chinese) keyboard companies to bring configurations to the United States. Thus, while most of the boards from Epomaker are produced by Skyloong, this keyboard is produced by "Firstblood." While Epomaker seems to influence particular specifications, features are somewhat dictated by the different manufacturers. Out of the box, there is nothing to indicate this is in any way related to other Epomaker keyboards.
The B21 is encased in a thick, glossy plastic case that is pleasantly round — no pointy edges to be found. The case may be plastic, unlike many premium boards, but it is very sturdy feeling plastic unlike the frames I've criticized on the Keychron K2 and Royal Kludge RK100. While glossy plastic harkens back to the early 2000's, the off-white color and keycaps actually look much more 1980's in style. It sounds kitschy, but is rather endearing in person. The keycap legends are highly legible with a classic typeface and the keycaps themselves feel like they look: solid and satisfying, like keyboards of 40 years ago.
The unusual shape of the keycaps is rounded and tall, with the keys on the corners rounded more dramatically for aesthetic purposes. I really like the way these "SA Profile" keycaps feel when typing, although their uniqueness does mean it'll be hard to find a substitute set of caps if you ever want to. You probably won't want to, though, because these keycaps are nicely textured, sturdy and made of PBT to resist wear.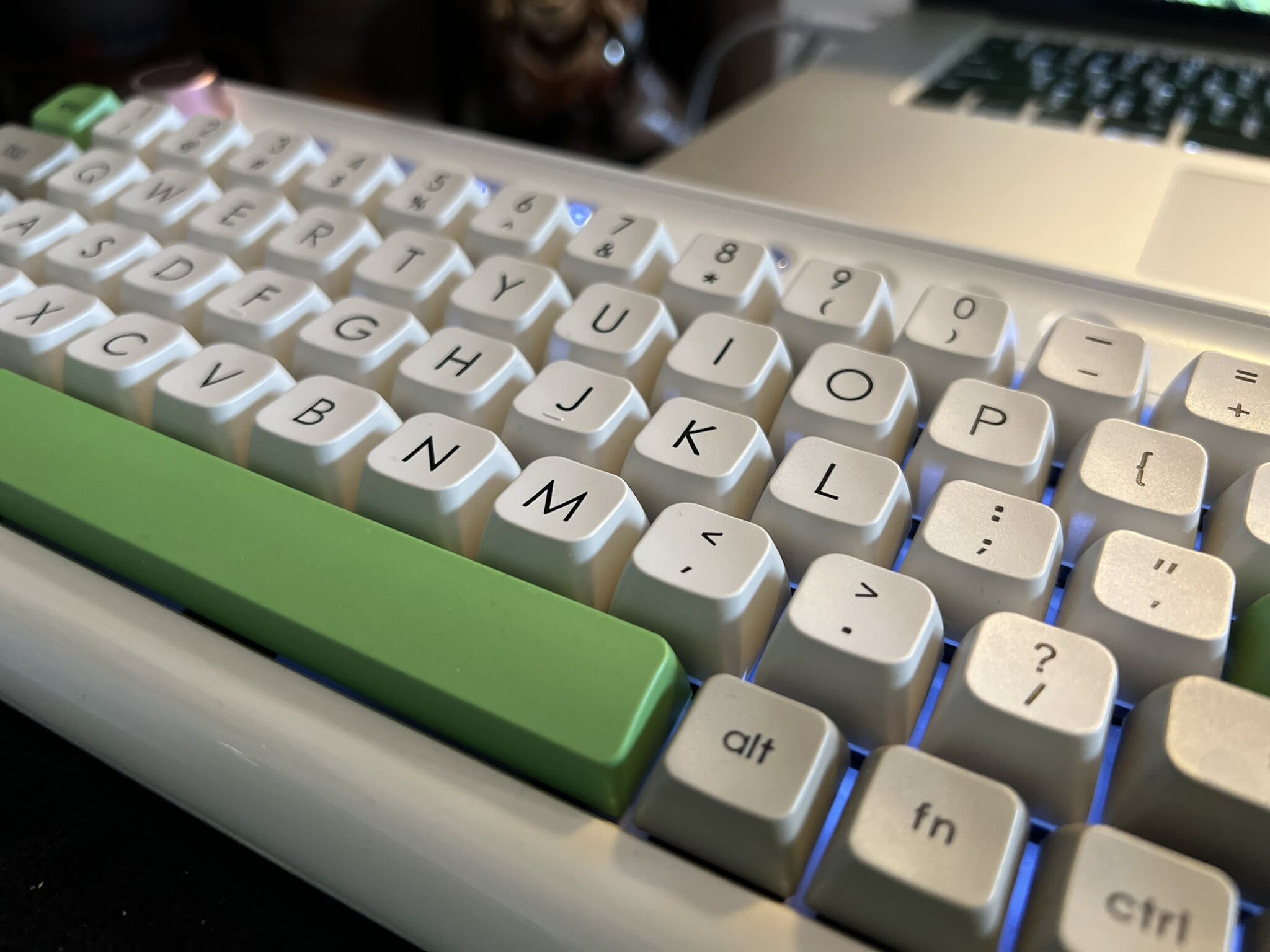 The SA Profile keys have a slightly different, more rounded shape that is great for typing. (Credit: Timothy R. Butler)
The solid keys combined with the sturdy case produce a satisfying "thunk" when typing, the sort of auditory response that give assurance the keyboard is reliably there for you. The haptic and auditory feedback seem perfect for encouraging faster, accurate typing — exactly what you hope a mechanical keyboard will do.
Unlike most boards we see these days, the B21 doesn't just add more standard keys for multimedia features. Play, pause, etc., are decidedly different, clear, jewel-like oval buttons above the main keyboard. That different row also features two knobs (one to control volume and one to control backlighting), three small buttons to switch between devices you pair the keyboard to, and a Mac/Windows mode switch. The knobs are made of metal and have a wonderful tactile response when they are turned.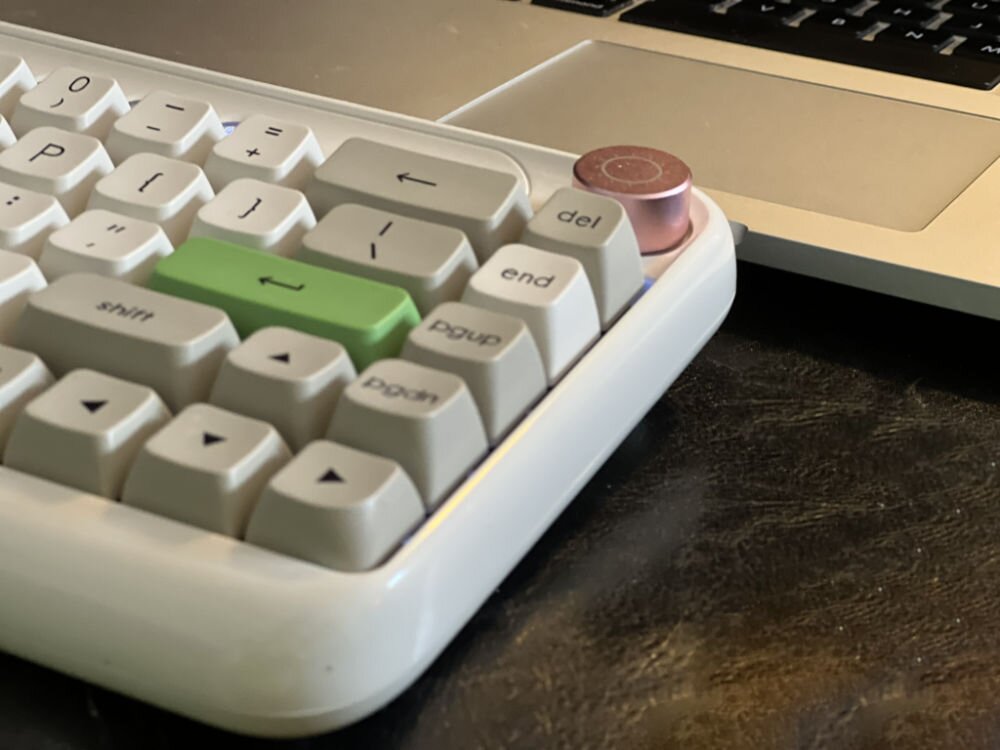 The metallic knobs stand out on the keyboard, providing easy access to volume control and keyboard backlighting. (Credit: Timothy R. Butler)
While it does have both Mac/Windows modes, it does not offer Mac keycaps and I've already mentioned the difficulty in finding replacement keycaps. So, Mac users have to accept Windows-centric labels on the keys, which is unusual amongst Epomaker's offerings, but another symptom of coming from a different Epomaker partner.
Unlike the majority of Epomaker's offerings, this board is not programmable, so sadly the dual knobs — or other special keys of the top row — cannot be repurposed. The light dimmer one would be much more useful given to a different task, since the board's dim backlight never seems to really warrant being dimmed. Likewise, even if you always use it in Mac mode and never pair to a second device, those hardware buttons are fixed to those tasks.
The board features a large capacity (4000mAh) battery that gets incredibly good battery life. In my average use situation, I find that it can go for weeks as a Bluetooth wireless keyboard without ever thinking of having to charge. Like most modern boards, it features a USB-C port for charging and for using the B21 in wired mode.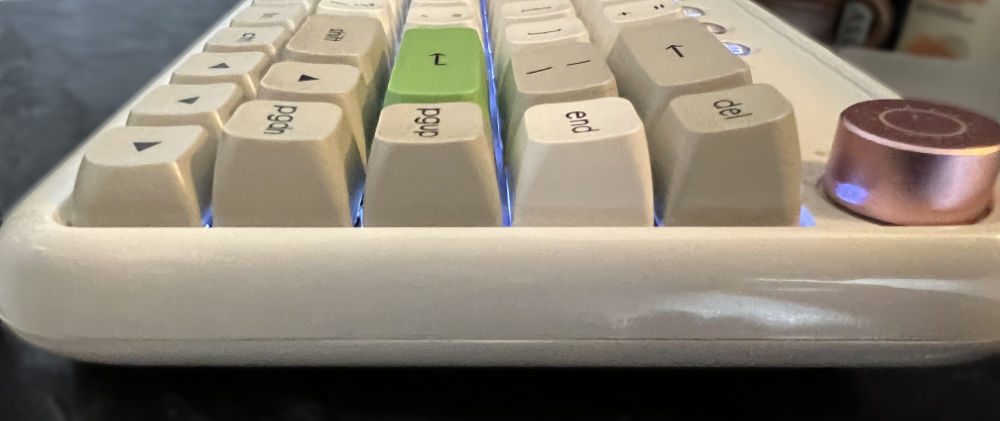 The side view shows the relatively pronounced profile of the SA keycaps. (Credit: Timothy R. Butler)
The battery life is not only excellent, so too is its responsiveness when it has gone to sleep. Like all wireless keyboards, it does sleep when not in use, but it wakes up so quickly I do not find myself thinking about that sleep, unlike with certain other boards.
This review sounds like a mixed bag; I have noted a series of shortcomings throughout, but I have already hinted at my fondness for this board and it is the typing experience that makes me like it so much. Isn't that what really matters? Unlike most modern keyboards, this one opts for authentic Cherry MX switches and the combination of the thick frame, heavy duty PBT keycaps and the Blue Cherry switches I opted for produces an incredibly satisfying typing experience — I dare say one of the best I've ever experienced.
While I bought this keyboard almost as a novelty for its unique layout, I've been using it for nearly a year — ever since it arrived in early Fall 2021 — and regularly set aside keyboards that offer a lot more on paper to go back to the B21. The excellent typing experience and fantastic battery life really make Epomaker's unusual side project something special. The genuinely unique appearance (which doesn't shout "gamer" but more "retro tech enthusiast") adds the right touch of "fun" without going to the gaudiness of gamer boards.
At a price point above many otherwise similar (or even more sophisticated) boards ($149), it has stiff competition. But, if your ideal is a board that is excellent to type on and you don't mind (or can even embrace) its eccentric appearance, the B21 is worthy of your time — and fingers. It really is as good as it is unique (Epomaker B21, $149, Epomaker.com).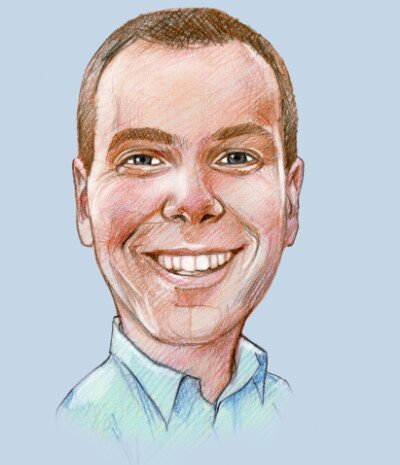 Timothy R. Butler is Editor-in-Chief of Open for Business. He also serves as a pastor at Little Hills Church and FaithTree Christian Fellowship.