Nov 02, 2022
Metadot Exquisitely Crafts a Mac-focused Keyboard
At the height of the rage around the first consumer marketed Hummer, later rechristened the H1, I remember getting the chance to climb into one at the nation's leading dealer of that incredibly robust SUV. The vehicle was capable of tackling terrain no car I've ever owned could, but also was incredibly basic on certain creature comforts. This is a professional tool. That analogy aptly fits the Das Keyboard MacTigr, the curiously spelled, newly released keyboard from Metadot.
This is a part of the continuing series of TestyTim.com reviews on mechanical keyboards. You can read more, including a summary of what makes mechanical keyboards notable in general, in the review series overview.
Metadot was kind enough to send OFB Labs a board to put through the paces to see what their big cat can do. As I mused in last year's review of the Das Keyboard 4 Professional for Mac, the Das Keyboard line has been in the mechanical keyboard game from before it was particularly trendy to do so and surely played a part in restoring the craft of a fine keyboard. Their boards are known for incredibly sturdy builds and an obsessive focus on typing experience over the bells and whistles. MacTigr is defined by that last sentence.
Presently the Das Keyboard family has gotten a bit complicated. The new Das Keyboard 6 Pro appears the direct successor of the Das Keyboard 4 line, like I reviewed last year, but that series is so far focused entirely on PC users. The several year old Q line (5QS, X50Q and 4Q) offers RGB backlighting and features to customize the keyboard. Finally, the new MacTigr represents Metadot's first built from the ground up Mac keyboard, a markedly different animal from their PC offerings.
So, what happens when a longtime manufacturer of mechanical keyboards sets its mind to making what it calls a "reference keyboard" for the Mac?
The MacTigr adopts a solid aluminum unibody base (and stainless-steel top plate) to the keyboard reminiscent of Apple's current Magic Keyboard and Magic Trackpad. Unlike some third-party Mac keyboards, though, Metadot didn't just ape Cupertino's design. The MacTigr isn't an Apple keyboard clone with mechanical keys, but rather an Apple inspired keyboard with mechanical keys.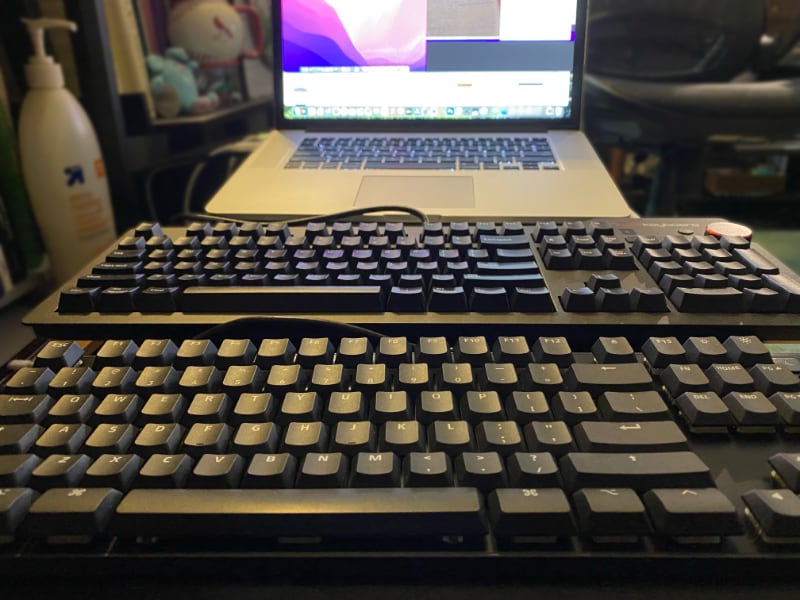 We pulled the older Das Keyboard 4 we had previously tested out to pit it against its younger sibling. (Credit: Timothy R. Butler)
I prefer this keyboard's approach to the clones: many Apple clone-ish accessories end up looking cheap since they aren't "quite right," but don't have an identity of their own. The MacTigr will compliment a desk with a Mac on it while being its own thing. The Apple inspired minimalism reigns in the quirky, non-rectangular shape Metadot has preferred on past boards for a straightforward, Apple like rounded rectangular design, but the family linage of Das Keyboard is still unmistakably there.
At its best, Apple makes products that have fantastic fit and finish: they don't squeak or wiggle while being used. The MacTigr one ups that game as perhaps the most solid feeling keyboard I have ever had the pleasure of typing on. It feels like one is typing on keys attached to a solid block of metal.
(That's a good thing. Trust me.)
While the Das Keyboard marketing team went all serious with this release, the company's tongue-in-cheek quip I referred to last year regarding the Das Keyboard 4 line being sturdy enough to be used as a weapon in the Zombie apocalypse fits doubly so here. While I noted the 4 Pro compared favorably to my iconic IBM Model M keyboard in build quality, this one feels sturdier than that said keyboard legend. This is truly an incredibly well-built keyboard and with significant heft, it'll stay put wherever you set it down.
Unlike past Metadot keyboards — or any keyboard we've had show up here at OFB — the MacTigr uses a USB Type-C connection, just like modern Macs. Even the Mac-oriented keyboards we have reviewed come with a cable intended to be plugged into an older style Type-A USB port and must be adapted on modern Macs. It's wonderful that the MacTigr defaults to the modern standard. I do wish the cable were detachable as on the other boards reviewed, in case it were to get damaged, but it is at least a nice, long cord.
As an added benefit of the bump to USB-C: it also offers a two port USB-C hub on the back of the keyboard. It is only a USB 2.0 speed hub, so not ideal for high-speed connections, but fine for charging a phone or hooking up, say, a webcam.
If you are comparing this to the 4 Pro for Mac, another thing sets it distinctly apart: it joins the trend towards "low-profile" boards. Low profile mechanical switches and keycaps are still taller than, say, a laptop keyboard (or Apple Magic Keyboard), but have less travel (how far they can be pushed down) than traditional mechanical keyboards do. It doesn't make the keyboard as svelte as Apple's keyboards, but it does make it look like a blend between Apple's ultra-thin boards and a traditional mechanical board.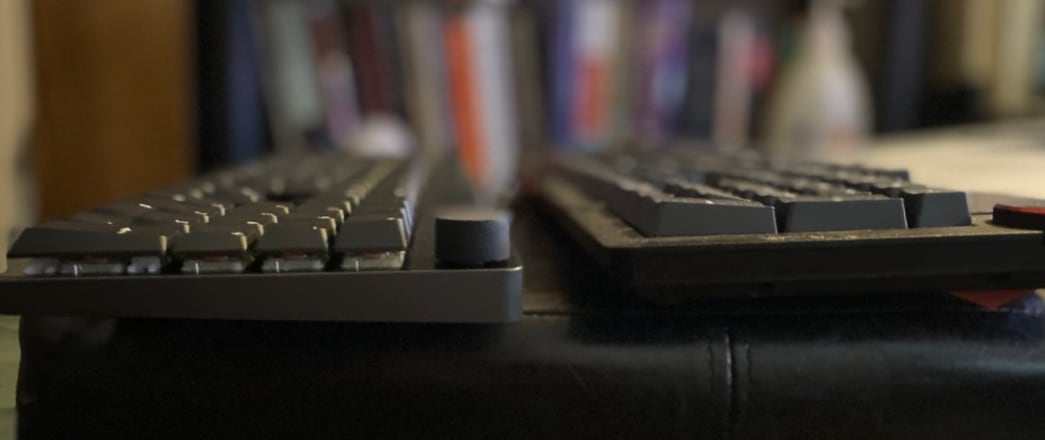 The low-profile keys do exactly what they claim in comparison to the full height switches of the Das Keyboard 4 Pro. (Credit: Timothy R. Butler)
Given this switch, if you'll pardon the pun, of switches along with Metadot's exclusive use of the "red" variety of Cherry MX switches, which lack the distinctive "click" one may often associate with mechanical boards, I was particularly interested to see how this new generation changed the Das Keyboard typing experience.
While I tend to be a partisan for the clicky "Blue" switches, I have enjoyed several different red switched keyboards. Red switches are, in theory, quieter without the click, though I find I can often make a significant racket with them still as the keycaps reverberate on the bottom of the keyboard. In the past, this cacophony made me question a bit red switches utility at least for a typing focused board, since they seemed neither quiet nor ideal for typing (they have their advantages for gamers, who demand different things from keyboards).
A "however" needs to go here: the MacTigr is the quietest mechanical keyboard I've ever typed on. Given the incredibly solid base, the board was not at all inclined towards echoing the sound of my typing. It is a pleasure to type on a board that feels unquestionably mechanical but will not drive those around you at work or home crazy from the noise. To me, this might be one of the best features of the MacTigr that allows it to work in places other mechanical boards are simply a no-go.
As I did in comparing the 4 Pro last year, I tried typing on the MacTigr with Metadot's Typrx typing speed game to see how it compared to its more traditional sibling. I expected the MacTigr, with its low-profile keys, to slow me down a bit, but to my surprise, I typed at virtually the same rate on either of Metadot's keyboards. That's a compliment to the MacTigr, since I had previously found the 4 Pro to be one of the keyboards I was able to type the fastest on.
The key layout is straight forward, differing from the 4 Pro in just a few places where it moves things to better match the somewhat rare, full sized Apple Magic Keyboard.
The keycaps return to the tastefully understated typeface Metadot used on the Das Keyboard 4-line, rather than the more "gamer-y" aesthetic of the Q-line that came in-between. Notably, this keyboard eschews the less robust ABS keycaps I dinged the 4 Pro for using and opts for the wear-resistant PBT keycaps like those found on other premium-level keyboards. Metadot already made really nice feeling ABS keycaps, formed with PBT instead, they are just that much nicer.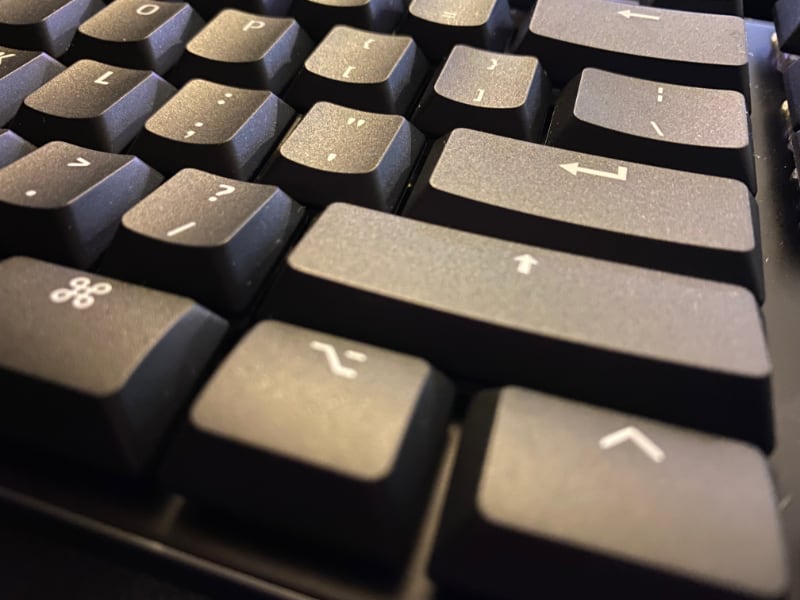 Metadot's keys have a pleasantly ergonomic curve to them and a tastefully minimalist typeface for legends. (Credit: Timothy R. Butler)
Metadot was putting volume knobs on their keyboards long before almost anyone else and the multimedia controls and volume knob on the MacTigr are exceptionally nice (with one exception I point out below). The knob, particularly, feels exquisitely fine, well balanced, with perfect resistance and highly pleasant texturing. Really, every spot touchable on the MacTigr is that way. Keyboards are inherently tactile devices and the MacTigr feels like a metallically forged love letter to one's fingers.
If you have followed my keyboard reviews, so far this sounds like I'm holding the MacTigr up to be the best keyboard to pass through the OFB Labs. If that is the case, why did I start with a ridiculous Hummer analogy?
Unfortunately, we do need to discuss some curious design decisions, the first two of which put it in odd contrast to some of its Das Keyboard siblings I wish it would have learned a thing or two from.
First, for a Mac-first keyboard, it is rather bizarre that Metadot opted not to include backlighting when Apple was on the forefront of backlighting keyboards with PowerBook laptops nearly 20 years ago. This is the most expensive keyboard from Metadot and the most expensive keyboard we've tested that lacks backlit keys.
Backlit Das Keyboards have shine through keys (the legends light up ala Apple) and, sadly, shine through keycaps that are PBT exist but are rare, so I suspect the designers decided to dump backlighting when they went for the superior keycap material. (The PC-oriented Das Keyboard 6 Pro has backlighting but not PBT keycaps.) Other companies just do "shine around" backlighting with PBT, so this still seems an odd trade-off, but it does appear it is an either/or from Metadot. That said, while I personally like a white backlight aesthetically, it isn't at all necessary, so it is more something to be aware of than a huge problem.
Second, and perhaps more significant functionally, this keyboard doesn't get the programmability of the Das Keyboard Q-line. If you like the way the keys are configured out of the gate, this may not be a big deal either, but most keyboards in this price range seem to offer some level of customization and it would go a long way to mitigating my third and last critique.
That final critique is that for a Mac-focused board, Metadot makes a few inexplicable layout decisions. While it does have nice, dedicated multimedia keys for play/back/forward, screen brightness up and down keys, and a delightfully well-built volume control knob, the company opted for old-style, generic F1-F13 keys for the function row rather than a complete row of multimedia keys. Apple boards like this one's inspiration, the Magic Keyboard, and many Mac-oriented third-party models, opt for keys to activate Mission Control, Spotlight, Siri, Do Not Disturb, etc., in that locale. Since it has been years since any first party MacOS keyboards offered F1-F13 without pressing a key combination (and there were years where the Touch Bar eliminated the function row entirely), those keys just aren't as useful in a Mac context any longer. The "FN" (function) key, seemingly recognized by MacOS as the "globe" key found on the latest Macs, could at least be useful, but only seems to work for turning on and off N-Key rollover on the keyboard rather than triggering function on the computer itself.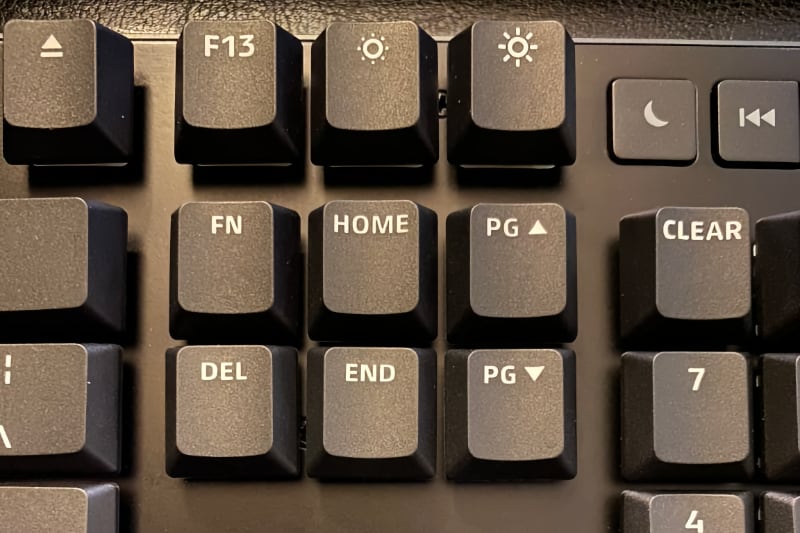 It's been years since F13 or several of these other keys made an appearance on most Apple keyboards. That said, page up and page down sure are nice to have. (Credit: Timothy R. Butler)
Perhaps most maddeningly for me: I often play music while writing and frequently use the mute key to quickly cut the volume when I need to hear something, toggling it again to return to my previous volume level. This is the first keyboard with multimedia keys I can recall that doesn't have a mute button, strange since the Das Keyboard 4 Pro had a very similar multimedia key arrangement but included mute. Mute would be significantly more useful, I suspect, for most users than the included "sleep" button, but — here it is again — there's no way to reprogram the button.
We arrive at the Hummer point. Like that brute of an SUV, this is board delightfully overengineered. As a typist who generates thousands of words per day, I love the experience of the MacTigr. It is one of the most satisfying keyboards I have ever had the pleasure of typing on. It is really, really great at its reason for existence. That said, it does lack a few creature comforts that really would make it the unquestioned big cat of the Mac keyboard wilds.
It also is missing one "Hummer class" feature that seems odd: it lacks hot-swappable switches. While that feature is generally marketed to gamers who want certain keys to have different types of switches, the best part about hot-swappable switches is that if one switch fails (say, after using the board as a weapon in the aforementioned Zombie apocalypse), it can simply be removed and replaced, something my colleague Eduardo attested to in his review of a Keychron board awhile back.
At a lofty price — $219 — and with stiff competition such as Keychron's impressive Q and K Pro lines, which don't reach the same build quality, but are no slouches (review of the $119 K8 Pro forthcoming), I would be doing you a disservice to overlook the limitations. That said, my summary on the 4 Pro stands for this keyboard:
Let's be blunt: these are some real downsides. But, after I considered them, I kept returning to just how nice it is to type on this keyboard. It's hard to ding a keyboard that is such a pleasure to type on.

This is a typist's keyboard.
The MacTigr is even more of a typist's keyboard than its predecessor. From that standpoint, and with the improved PBT keycaps, its $50 higher price seems worthwhile. Despite my critiques, I'm actually giddy about the typing experience with this board and find myself wishing I could just skip the critiques altogether.
I can't do that, but can say this: MacTigr's typing quality dwarfs some of those issues. Limitations aside, serious typists should give it thoughtful consideration (Metadot Das Keyboard MacTigr, $219, daskeyboard.com).
Update (November 17, 2022): Added comment about the board's lack of hot-swappable switches.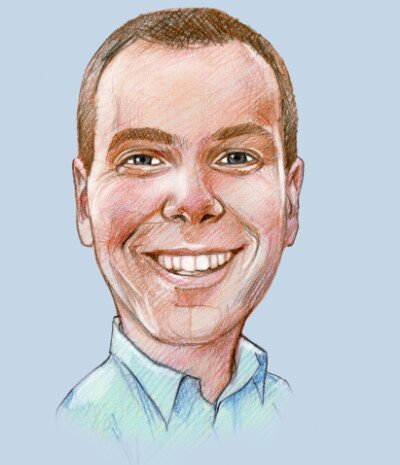 Timothy R. Butler is Editor-in-Chief of Open for Business. He also serves as a pastor at Little Hills Church and FaithTree Christian Fellowship.