Jun 09, 2009
In the first part of our Accordance review, I looked at Accordance from the perspective of a user looking to do basic Bible study. Here at OFB Labs we found that it passed that test with flying colors and recommended the $99 Introductory Library package as an excellent choice. But, what if you are a pastor, scholar or other in-depth student of Scripture looking for something a bit more powerful? Is Accordance right for you as well?
Many products do not scale well. iPhoto is a great photo manager and can even handle tasks such as simple color correction surprisingly well, but beyond basic touchup, one can save a lot of time and hassle by going with Photoshop instead.
Accordance, on the other hand, scales spectacularly well. While we found it to be good for basic home Bible study, where it really shines is in a more demanding setting. If you are a pastor, scholar or lay ministry teacher who wants to push beyond the basics to do word studies, use commentaries and make use of original language texts, Accordance offers a compelling feature set for you. (Do not let the mention of original languages scare you from Accordance or this review – plenty of the features are helpful without knowing one iota of Greek.)
The power of Accordance is primarily located in its search box. The search box was presented in the first part of this review as simple, and, indeed, it is if your goal is to simply look up verse references. But spending a little time in the Accordance manual opens up a world of possibilities: in addition to standard Boolean operates such as AND, OR and NOT, Accordance allows the user to specify searches for words within a certain distance of another word, perform sub-searches within another search (even spanning multiple search windows) and to easily search for words in "tagged" original language texts based on the grammatical function of words.
For complex searching, the program even includes a handy graphical search function, which makes it possible to chart out a search. This simplifies combining elements of a search. The process is not entirely obvious, I found, however, so spending a few minutes in the documentation or even visiting the semi-official Accordance Exchange site and downloading some of the complex saved searches available there will do a lot to help new users take advantage of this helpful function.
Though hardly a showstopper, while some of the best parts of Accordance are revealed in the search functionality, so too is perhaps our biggest issue with the program. Search is close to instantaneous when searching a single module, but multi-module search is positively glacial in relative terms. In an era of Spotlight, Google Desktop and other tools that can search the full text of terabytes of data in mere seconds on moderately powered computers such as the four-year-old PowerMac G5 we tested with, Accordance's multi-module search, which can take minutes to complete, seems less than ideal. Exacerbating this is the single threaded design of the search, which prevents the user from interacting with search results until the entire search is complete. Allowing instant interaction (as well as the now common "search as you type" functionality employed by many search tools) would be a major improvement here.
The details function, which was already mentioned in the early part of the review, takes on new life when being used with grammatical searches. Frequency of masculine, feminine and neuter verbs or Hebrew verbal stems can be easily graphed to help highlight usage throughout the Bible as a whole or individual books thereof. It can also do such nifty functions as showing how often an original language word was translated various ways in any text that includes Strong's numbers. Real research should not stop after the graph or list is drawn, of course, but this function can be a great launching pad for further exploration.
Amplify, Accordance's signature triple clicking of words, makes cross-referencing between the Biblical text and other tools a snap. Triple clicking on an English word launches an "English tool" such as a topical Bible or Bible encyclopedia. When working with original language texts, appropriate language tools – typically a lexicon – will come up in response to the triple click. Other tools, such as commentaries can be accessed through the right (control) click context menu. A generous swath of commentaries – some new, many older – is included in the $299 Library edition.
When viewing commentaries and other references, one feature that quickly becomes almost indispensible is the distinctions Accordance is aware of within the text. For example, Scripture references are not simply part of the text, but bits of data Accordance can intelligently interact with. If you perform a Scripture search for Genesis 22.1-4 in Thomas Aquinas' Summa Theologica or John Calvin's Institutes, it will bring up any references to a verse (or range of verses) within the range you specified. This is vastly more helpful than a simple text search and for those of us who frequently work with such texts, this alone will pay for Accordance in improved efficiency.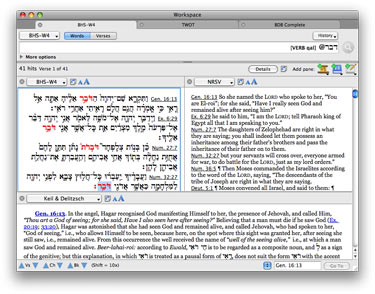 Performing a Hebrew verb search while viewing the results in both Hebrew and English (top right and left). Below is the excellent Keil & Delitzsch commentary included in the Library Premier package.

In the review kit provided to us by OakTree Software, we received a copy of Accordance's Bible Atlas in addition to a core package. The Bible Atlas is a program that begs for use in the classroom – be it at a school or in Sunday school classes. A pleasant 2D map view by default, the map covering the various sites in the Bible can be overlaid with various groupings of more detailed Biblical sites as well as animated tracings of the routes taken in journeys listed in the Bible. The maps can be altered in color and selecting a section of the map allows one to view the map in 3D, including zooming in and moving about the geography. It is not exactly "Google Earth Bible Edition," but it serves its purpose quite well, and is just about perfect for quickly making sense of the geographical references in the Bible or grabbing a nice visual for the next PowerPoint presentation. A "sampler" edition is available for $20 to give you a taste, with the full price of the sampler available as a credit to the complete $89 edition if you find it helpful.
And speaking of presentations, one can be put together very quickly using Accordance's tabs. In Slide Show mode, each tab becomes a slide in the presentation. So, for example, the first tab could be a reading from Matthew 2, concerning Mary, Joseph and Jesus fleeing to Egypt; the second slide could be an Accordance Atlas layer tracing that journey and a third slide might include Hosea 12 (which is referenced in Matthew 2). Accordance is not intended to replace PowerPoint, but this is a great function for last minute lesson preparations.
As with any review of a large product, it becomes impossible to exhaustively consider its features, but these highlights help to give a basic overview of what makes Accordance such a great product for pastoral and scholarly work. If the reviewer may be excused for making an unusual personal remark about a product, let me say that this is one of the few products I have reviewed that I liked so well that I went out after working with the editorial review copy OakTree sent and bought into the system personally. Most of the products we review are nice, but many go into the proverbial review closet never to be looked at once the review is over – Accordance is not such a product.
For almost all of "in-depth" users, Library Premier is a perfect starting place. It includes a hefty selection of commentaries, including a few copyrighted resources, and many public domain, older resources. These latter selections may at first blush seem like an odd thing to buy, but OakTree's careful marking of the texts, as was noted in the scenario of searching for Scripture references in Calvin's Institutes, is what brings value to these modules. We would like to see some of the translations of these works brought up to the current standard academically accepted editions – the Institutes, for example uses an old, sometimes archaic sounding translation – but having all of these commentaries at your fingertips is indescribably helpful even as they are.
The Premier level also included a number of premium modules such as the New International Biblical Commentary and a large selection of Biblical parallels, such as a Gospels parallel, New Testament use of Old and even one examining the use of the theoretical Q source in the synoptic Gospels. An enhanced hymns module in version 8 is conveniently cross-referenced with hymn writers' biographies and even the iTunes Store for fast downloading of recordings of the hymns you are viewing.
Those equipped to do original language studies should consider one of the combo pack bundles, which adds the Scholars collection as well. The standard $249 level is probably best for most users. This latter collection would be rather sparse if not used in combination with the Library collection, but adds the current standard Greek and Hebrew texts (UBS/Nestle-Aland 27th and the BHS 4 with Westminster Morphology), a few good lexicons and assorted other helps. We would like to see a bit more parity in the Scholar Premier $349 level with the Windows-based BibleWorks's identically priced standard package, which includes several current grammars, the unabridged BDB Hebrew lexicon and many modern translations in addition to the tools Accordance bundles. Nevertheless, Accordance does offer vastly more optional modules, muddying the waters a bit on which is the best value in the long run.
All in all, Accordance is a great product for anyone spending significant time preaching or teaching Scripture. Yes, it does require something of an initial investment, but I found it to be an absolute joy to do academic research using it and we at OFB feel comfortable highly commending it to those looking to advanced study on a computer. In the final part of the series, we will look at a few remaining questions about the value proposition of the software as well as looking at some less apparent, non-technical points worth noting (OakTree Software, accordancebible.com; recommended package: Premier Double Bundle, $559.00).
Timothy R. Butler is editor-in-chief of Open for Business.