Feb 27, 2021
We Test Three Thunderbolt Docks
After years on the periphery, Thunderbolt docks are finally becoming a mainstream peripheral. They not only simplify bringing a laptop to your desk by reducing the number of separate things you need to plug in, but provide a means to pump more data from more sources into a laptop than possible otherwise via the limited number of ports on modern, slim laptops, such as a MacBook Pro. More like a drive bay or card slot of yesteryear's computer towers, docks provide flexibility as we all push our computers further in the post-COVID world. Today, I look at three of the best and what they can offer you.
The three options I chose, the Anker PowerExpand Elite ($214), CalDigit USB-C Pro Dock ($199) and the CalDigit Thunderbolt Station 3 ($249) are all actually on the lower cost end of Thunderbolt docks. Some of the other common brands can run well beyond $300, but unless you specifically need something missing from these docks — and there is very little missing — you can lessen your wallet's pain by picking one of these options.
Why a Thunderbolt Dock?
As I referred to above, there is a convenience factor to using a dock. Particularly for laptop users, not having to individually plug in your external monitor, wired network, speakers and other accoutrements when at your desk is really nice. If you take your laptop away from your desk frequently, this can really help, avoiding time wasted wondering why a peripheral isn't working only to realize you missed plugging in one of your cables. One cable does it all.
Thunderbolt docks are more than a luxury priced convenience, however. Years ago, when large sized desktop computers ruled the earth, there was plenty of room inside a computer for expansion to add any missing features you needed. Thunderbolt does a good job of adding similar expansion capabilities to laptops (or Thunderbolt equipped desktops, for that matter). Instead of opening up the tower and inserting a card to do something, you plug in a device using a cable that looks much like a modern USB cable and achieves speeds fast enough to support high speed storage and even external graphics cards.
Yes, USB hubs offer a similar function, but they can bog down and cause unfortunate failures if you are trying to do demanding work. For example, my 2015 MacBook Pro kept having trouble live streaming a video broadcast I do weekly, even though the processor was not overly taxed. It turned out that the USB hub I had to use to enable me to connect all of the peripherals needed for the broadcast were more than even well rated USB hubs could reliably manage. Thunderbolt handles that same workload aplomb.
Unlike USB, Thunderbolt allows more direct system access to the things you plug in, resulting in higher speeds, so when a Thunderbolt dock adds its array of ports to your computer, it is almost as if all of those ports were built into your computer. This is true even for types of ports that did not exist when your computer was made; for example, adding USB Type-C ports to a computer without the latest generation USB.
Thunderbolt 3 (and now 4) made the Thunderbolt standard even better than before with several great new perks. Not only can one cable from the dock to your laptop connect all of the types of accessories I mentioned above, it can also charge the laptop at the same time. Like USB-C, of which it is essentially a superset, it sports USB-C's reversible connector that ends the fumbling around all of us have had to do to make sure we plugged in a cable right side up.
While the docks I tested here all are for Thunderbolt 3 computers, computers with older Thunderbolt ports are not entirely left out. Using a Thunderbolt 2-to-Thunderbolt 3 adapter — Apple sells the only one I am aware of — you can also use these modern docks as a "best of all worlds" option that works just fine with older Thunderbolt 1 or 2 laptops while being ready for newer ones. You can't charge an older Thunderbolt laptop this way, but other functions should work with a caveat I will note below on the USB-C Pro Dock.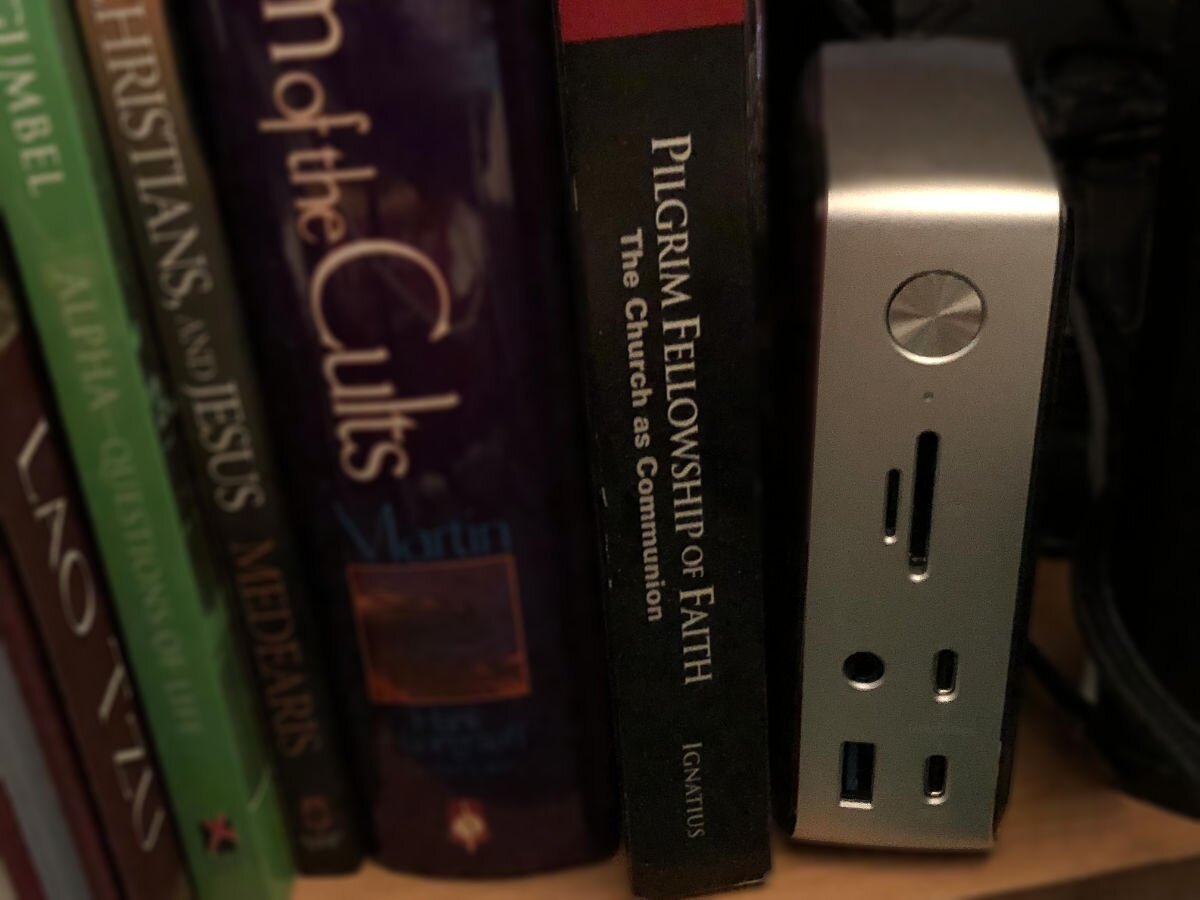 The Anker dock (pictured) and TS3 both can be optionally oriented vertically.
Which Dock?
I tested three docks that all tick off a lot of the really important points — plenty of USB Type-C and (classic) USB Type-A ports, video out (DisplayPort on the CalDigits and HDMI on the Anker) for connecting to a display, SD card slot (great with newer Macs that lack one), audio in/out and ample power supply for even power hungry laptops like the 16" MacBook Pro.
Perhaps just as important, I trust the reputations of CalDigit and Anker to produce devices that can supply that power safely. There are enough reports of laptops fried from improper USB-C Power Delivery (which is what is used in these Thunderbolt docks) that you really do not want to use a no-name dock. Do not trust your expensive laptop to a bargain basement dock that will leave you out in the cold if it overpowers your computer's port.
All three docks perform well on data transfers with nothing abnormal standing out that would cause pause or shift my opinion towards or against one. My biggest limitation in data transfers has not thus far been any of these docks, but the storage – even solid state drives – I have available to plug in.
There are a few distinguishing factors to help weigh which dock is best for you. The CalDigit USB-C Pro Dock is the cheapest of the three and offers a flatter (but wider) design that I prefer for how easy it is to stack other accessories on top of it to save space. That said, it lacks the ability to daisy chain further Thunderbolt devices (it only has the one Thunderbolt port that runs to your computer) and it negates the aforementioned backwards compatibility with Thunderbolt 2 devices. While most of it will work using a Thunderbolt 2 adapter, video output worked on a 2015 MacBook Pro but not a 2013 model.
The Thunderbolt Station 3 and Anker PowerExpand Elite seem like better choices for maximum flexibility. At just a few dollars more than the USB-C Pro Dock ($219 for the Anker and $250 for the CalDigit TS3), the only reason I would recommend going with the Pro Dock instead is if you absolutely know you only need the features included with it or if you want to take advantage of its one, most unique feature: the ability to double as an iPad Pro dock.
CalDigit's docks that we tested both included DisplayPort outputs, which can be adapted to HDMI for use on a broader variety of monitors, but that requires an "active" DisplayPort adapter that adds another $20 or so to the purchase price. CalDigit has since introduced a variant of the Pro Dock that has HDMI ports in lieu of DisplayPorts, but it likewise raises the price by $20 (albeit for two HDMI ports, which is cheaper than buying two active adapters). If your screen does not natively support DisplayPort, the Anker dock will likely make the most sense from a cost perspective since it is more akin to CalDigit's higher end Thunderbolt Station 3, but priced the same as the HDMI version of the USB-C Pro Dock.
The Anker dock has a few unique features of its own. The dock includes a dedicated MicroSD card slot that comes in handy when one inevitably loses the MicroSD to SD card adapters that come packaged when you buy a card. It also has an 18w USB-PD port for higher speed charging of a secondary device (such as your phone) and is the only dock to support 3 displays, albeit using an adapter that is not included in the box. A final unique "feature:" a power button, in case you want to turn it off.
Each dock comes with a slightly different selection of ports, so here is the breakdown to help you determine what fits your needs best:
| Port | CalDigit USB-C Pro Dock | CalDigit TS3 | Anker PowerExpand Elite |
| --- | --- | --- | --- |
| Thunderbolt 3/USB-C | 1 | 2 | 2 |
| USB Type-C Only | 1 | 2 (1 5Gbps/1 10 Gbps) | 2 (All 10Gbps; 1 with 18w USB-PD) |
| USB Type-A (Legacy) | 3 | 5 | 4 |
| Card Reader | SD 4.0 UHS-II | SD 4.0 UHS-II | SD 4.0 UHS-II |
| | | | MicroSD 4.0 UHS-II |
| Gigabit Ethernet | Yes | Yes | Yes |
| Analog Audio | 1 Combined In/Out | 1 In, 1 Out | 1 Combined In/Out |
| Digital Audio | No | 1x S/PDIF | No |
| Displays Support | 2x 4K or 1x 5k | 2x 4K or 1x 5k | 3x 4k* or 1x 5k |
| HDMI/DisplayPort | 2 DisplayPort* | 2 DisplayPort | 1 HDMI |
| Price at Amazon | $199 | $249 | $214 |
* CalDigit USB-C Pro Dock can be upgraded to 2 HDMI ports for an additional $20; to use a third display with the Anker PowerExpand Elite, a USB-C to dual HDMI adapter is required.
From a spec sheet perspective, all of these docks are really nice. Given that all of the docks are closely priced together, the CalDigit TS3 is the most flexible of the docks and CalDigit has been making docks like this for a very long time, the TS3 is a very strong contender for our recommendation. That said, while Anker is a new entrant in the Thunderbolt dock business, their dock is aggressively priced, offering everything most users will need for $35 less than the TS3 at current prices (or an even greater discount if you end up buying active DisplayPort-to-HDMI adapters for the TS3).
Given the price difference, the direct HDMI support, the USB-PD port for charging an accessory and the faster speed of the second USB Type-C port, Anker's specs narrowly edge out the CalDigit in our book. Moreover, the next section adds another wrinkle that pushes us to declare the Anker PowerExpand Elite our choice for best dock.
A Significant Note on Customer Service
This section pains me to write, because I've been a longtime fan of both companies in this article, but based on my personal experience with their tech support (not wearing my "press hat" when interacting with support), I hands down recommend buying the Anker dock over the CalDigit at this juncture. Prior to testing these docks, I had been a CalDigit Thunderbolt Station 2 user for over half a decade. When I encountered some minor problems with it over the years — one of them my fault, even — CalDigit bent over backwards to make it right. For example, when I moved and lost the little rubber feet that help it stay in place, they kindly sent me new ones for no charge.
However, both CalDigit docks I have tested in this piece have ended up with issues, developing high pitched noises that they emit at various times. These noises are perfect for driving anyone with good hearing a bit crazy. The Pro Dock's annoying noise is active whenever it is plugged into a computer and it got grating enough I put it on the floor (so much for convenience) to avoid having to listen to it. The CalDigit TS3 on the other hand, makes a noise whenever it is not in use. Meanwhile, the TS3 has also started having trouble with its memory card slot.
Things happen, so I'm pretty merciful with companies when problems emerge, but CalDigit's support seems to have declined dramatically. When the Pro Dock's issues started, I contacted them and they sent a replacement. While it is an industry standard to replace even relatively new equipment with refurbished parts, usually that can be a good thing — the manufacturer typically replaces any parts showing wear and quality checks the units even more carefully than they do with new products. In other words, refurbished is often better than new.
Not so here. When the Pro Dock acted up, CalDigit shipped not a refurbished but a genuinely used replacement. The dock was coated in some unidentifiable dirt and its metal casing was significantly marred with scratches from a previous user. To add insult to injury, the replacement had an even worse whine than the original. Clearly, this unit had not gone through any meaningful sort of "recertification" process to be considered refurbished. I have bought used products on eBay that came cleaned up more than that dock.
When I contacted support about this, they did not offer to right it. In fact, it took a lot of haggling to get them to even agree to pay for return shipping on the dirty, problematic replacement unit so I could keep the not-quite-as-defective original dock instead. At first, I thought maybe they had shipped someone else's returned Pro Dock by mistake, but they were not particularly apologetic, so apparently not. I don't know what happened to CalDigit, but like I said, this pains me to write, because I held them up as one of the gold standards in my past experience.
The Anker dock, on the other hand, did not have any issues during testing and, in my experience, they have some of the fastest and easiest exchanges in the industry when their products do need service. Only a handful of tech companies come to mind as being comparable or better than Anker at backing their products.
Given that these docks carry significant price tags and the Anker PowerExpand Elite was already incredibly compelling, this support issue cinches the deal. Anker's dock is our present OFB Choice for best Thunderbolt dock.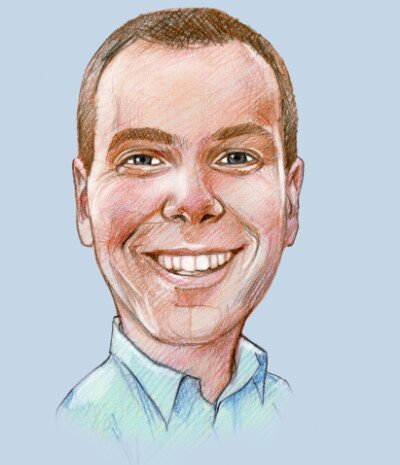 Timothy R. Butler is Editor-in-Chief of Open for Business. He also serves as a pastor at Little Hills Church and FaithTree Christian Fellowship.