Mar 21, 2021
Testing the Miroco 1.7 Liter Electric Tea Kettle
I have slowly been trying to improve my home barista skills for years, using the delightfully clever Areopress to make coffee when I have time for more than my normal rush to Keurigland. Recently, I have added pour over coffee into my repertoire as well. Both methods have the "flaw" of being dependent on that old fashioned task of boiling water. Both are improved with an electric tea kettle like one Miroco provided for us to test.
When COVID hit, I decided it was not really the best year for hanging around coffee shops, so I started pushing myself more in the quest for the perfect cup of joe at home. A home pour over brewer is great way to get a bit closer to the coffee house while health experts continue to urge social distancing even post-COVID vaccination.
I am not sure I want to go back to my old haunts when it is said to be safe, either. I can brew a lot of really good coffee for far less on my own, considering the little coffee house near me that was the first place I had a pour over does so to the tune of five bucks a cup. I think I'd rather invite friends to enjoy a cup of coffee I have crafted and save a number of those bucks, especially since – not to toot my own horn — but I think I like my brews better anyway.
While all you really need to follow me on this journey to putting the emphasis on "house" in "coffee house" is a cheap plastic pour over coffee maker and a way to boil water, I came to see the advantage of having an electric tea kettle when I visited a friend at his office and he used his kettle while preparing coffee for us.
Miroco's MI-EK001 stainless steel electric kettle heats water quickly — I filled it to full and had about a half a gallon of boiling water in less than 5 minutes. The real advantage of a kettle like this, though, is actually in avoiding boiling.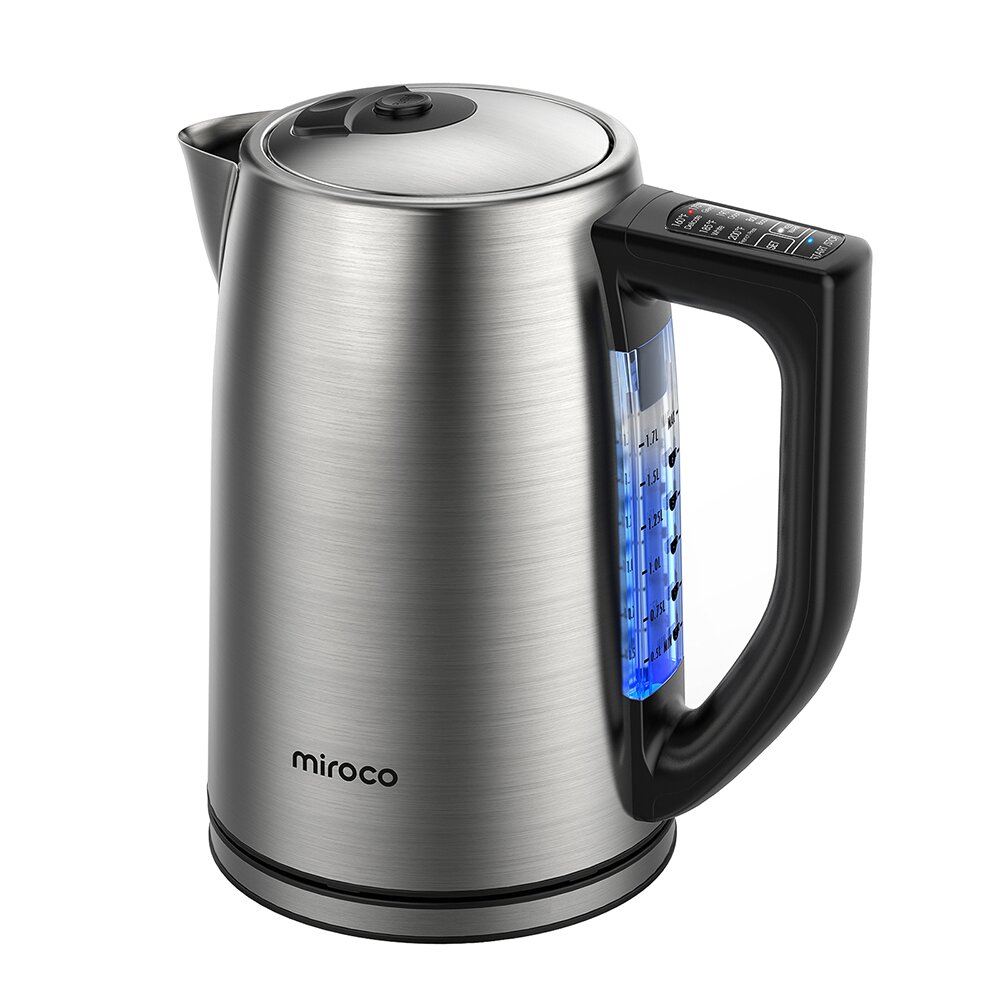 Miroco's kettle is a pleasant stainless steel design that fits into the modern kitchen.
Most coffee and tea brewing techniques, including pour over and Areopress, are supposed to use almost-but-not-quite-boiling water. Boiling water is too hot and risks scorching your brew. However, the temptation to just live with burnt beans is strong when the alternative is standing by the stove until precisely the right moment when the tea kettle breaks the old cliché and nears boiling while being watched.
Unlike a stove's largely unhelpful high-medium-low temperature knobs, an electric kettle like this one has a variety of preset temperature settings for teas and coffee, so you can pick the right setting for what you intend to brew and then know the kettle will heat your water to precisely that setting. The Miroco did a great job of reaching the proper temperature I set it to and, as a nice touch, has a "keep warm" function that keeps it there for for a half hour afterwards. It also has audible chimes to alert you to its status throughout the process.
The kettle is solidly constructed and it looks nice on the counter. The captive lid flips up easily (unlike my old, standard tea pot which has a lid that sticks) and the pour spout is a nice size and easy to control. If you have kids, you will also appreciate that the plate it sits on does not get hot, since the heating happens inside the kettle itself. The plate simply is glorified power adapter that connects the kettle to power whenever you set it down (no need to plug and unplug a cord to pick up the pot, unlike old-style electric kettles). The sides of the tea kettle do get quite warm, but the well-insulated design still keeps plenty of heat inside.
Since this is my first electric tea kettle, perhaps I am missing something, but it seems pretty perfect to me and at $40 is quite affordable. Throw in my $5 Melitta pour over coffee brewer or a $30 Areopress coffee and espresso maker and suddenly "Homebucks" is a great way to save some bucks while having coffee that is worthy of being a star ($40, Miroco, www.mirocohome.com). [*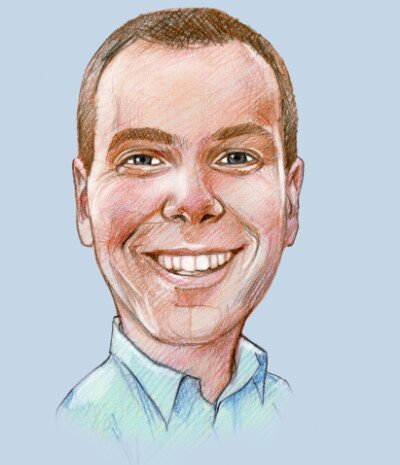 Timothy R. Butler is Editor-in-Chief of Open for Business. He also serves as a pastor at Little Hills Church and FaithTree Christian Fellowship.