May 10, 2021
A Highly Portable Wireless Mic for Your Camera
Can an affordable and seemingly misspelled wireless mic system help you with your live streams, Zoom meetings and other audio and video projects? We'll find out as OFB Labs puts the Pixel's Voical (sic) Wireless Mic system to the test.
When Pixel sent us their "Voical" system to put through the paces, I was intrigued —- the price is reasonable for a wireless mic system, especially one portable enough to have the transmitter mounted on a camera's hotshot.
I have a more traditional wireless mic system for in-building events, but it is bulky and somewhat delicate to transport. I also use a nice, wired mic system for "in my study" type videos. A shotgun microphone is often the ticket for other settings, but what if it is particularly noisy or you want to film someone off in the distance a bit?
A wireless lapel mic system is perfect for these sorts of occasions, assuming it actually works wells. That's where this Pixel system fits in.
This transmitter and receiver are tiny! The transmitter and receiver are so small that I thought I was unpacking the rechargeable batteries for it when I pulled out the diminutive packages for them.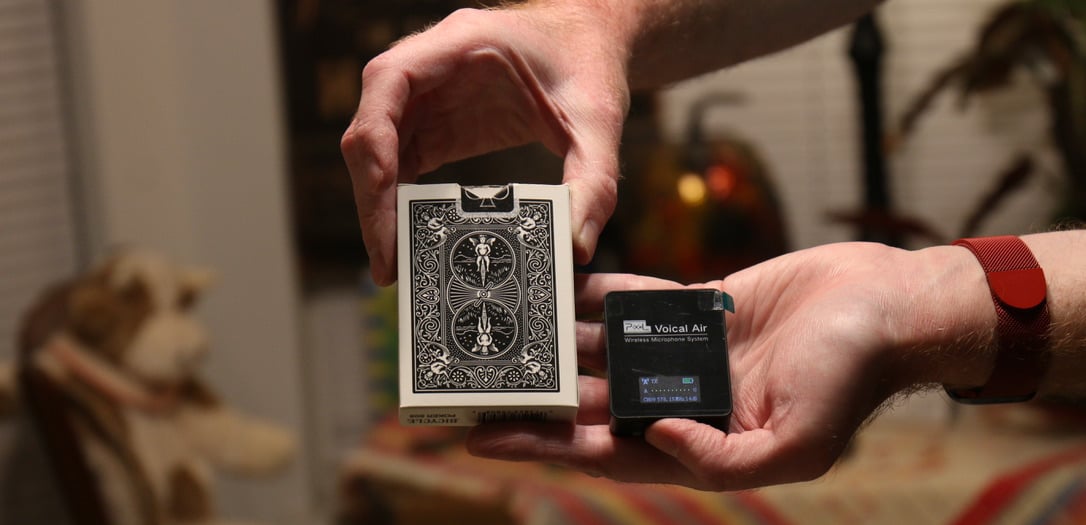 Notice how small the Pixel Voical transmitter and receiver are compared to a pack of playing cards.
The identically sized transmitter and receiver are light, sturdy feeling and feature a well designed button layout. The belt clips on both the transmitter and receiver are spring loaded as opposed to just plastic clips that bend, which should help the longevity of this unit. Many reasonably priced wireless mic systems use the latter and those can easily break, diminishing the usefulness of transmitters with plenty of life left in them.
The bright, easy to read displays on both the receiving and transmitting ends of the Voical system make it easy to see how the signal is transmitting (displayed like a cell phone signal indicator) and to see if audio is being received (with a visualization of the audio being transmitted or received). I suppose the display could be distracting in a dark room, but in most cases, the bright display is a gain — especially if you are trying to read the screen outdoors.
Charging the built-in rechargeable batteries is done with USB-C, which is great, since it is increasingly becoming the connector for charging pretty much anything portable that isn't an iPhone.
The Pixel includes several input options. It includes a lavalier (lapel) mic that plugs into the standard mini (3.5mm) jack on the transmitter; given the standard input, you can also attach an over-the-ear mic, shotgun mic or any other sort of microphone that can output to a 3.5mm jack. You can even drop the external mic entirely, if you want to travel really light: the transmitter has a built-in mic that in itself sounds surprisingly good for being built into the transmitter itself.
(Pro tip: Pyle's ultra cheap over-the-ear mics are fantastic paired with this kit and push the quality a bit higher than using a lavalier.).
So how does the Pixel Voical actually sound?
There was a little white noise in the recordings I made while testing it, but it appears in line with other mics I've tested and the fault of my camera, a Canon EOS 70D, not the Pixel. To establish where the noise I did perceive came from, I tested my trusty shotgun mic both attached directly to the camera and to the Pixel. The amount of noise in the recording was exactly the same to my ears, which speaks well of the Voical system: the wireless transmission work the Pixel did seemed to be just as clear as a direct cable running to the camera.
All that said, it does serve as a reminder: if your camera has a less than ideal microphone input, no microphone will be able to solve that. However, if your camera brings in a clean signal, the Pixel Voical will shine with that.
I haven't yet been able to get the advertised 320 ft range on the receivers and that might be the biggest downside, although the range I got was quite good. However, my tests were indoors, where walls were involved.
The manual indicates you need to avoid obstructions and that's reasonable enough; after all, if you are pairing this with a camera, hopefully there aren't obstructions between the subject and the camera! One will normally be within 20-30' of the camera when using a microphone system such as this one and, for that, you should not have any issues at all.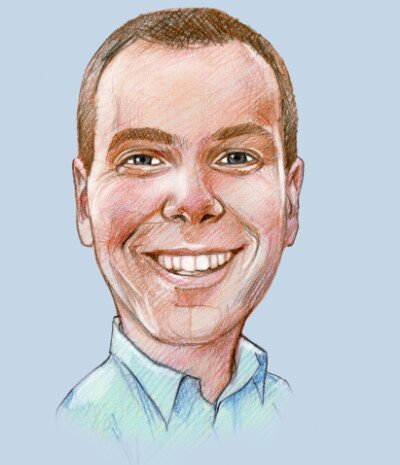 Timothy R. Butler is Editor-in-Chief of Open for Business. He also serves as a pastor at Little Hills Church and FaithTree Christian Fellowship.