Jun 30, 2021
Sometimes I Have More than Just Hot Air on Hand
I nervously hit the buy button and wondered what in the world I was doing. I was ordering a portable air compressor and I was excited about it. I'll confess I never thought I would get excited about an air compressor, but after a bad afternoon hoping from gas station to gas station only to find their air pumps broken and finally forking out $2 for not-enough-air-to-fill four tires, I wanted to try something different.
Years ago, I had one of those cigarette lighter powered air compressors. That's how I ended up making the pilgrimages to gas stations: I could get to the gas station and back faster than that thing could fill a moderately low tire.
Admittedly, you can get a larger compressor and put it in the garage, but I don't have room in the garage for it.
My eye had been caught by the variety of well rated, portable compressors online today and I decided to try one as a way to never test just how many broken air pumps my low tires could visit in a row again. If it worked — a big if — maybe it'd pay for itself after a few years. Those pumps demand serious homage these days.
(Have you ever noticed it always seem like on the first miserable day of the fall that the tire warning light comes on? Yeah, me too. An opportunity to avoid that sounds pretty nice.)
The first pump I put in my cart looked a lot like the one I had years ago, but was apparently more powerful. I made it all the way to Amazon's checkout process before I thought better of it and decided to try something truly different that I had seen: the iCarmaint Tire Inflator/Air Compressor.
There are a number of very similar looking products you'll find at your favorite online retailer. It reminds me of one I saw on infomercials that I wrote off as a cheesy gimmick, but maybe was actually rather brilliant. They all look a lot like a portable drill, all the way down to the Lithium-Ion battery that snaps on the bottom of the handle.
The iCarmaint one seems to regularly have a coupon — it did that day — knocking it under $50 and within about $10 bucks of a more traditional compressor like the one I almost bought. For that price, you get a nice cloth carrying case, a variety of accessories, including two different types of hoses for inflating car tires, nozzles for pool gear and other summertime inflatables, a single battery that has a USB charging port built in and a dummy battery that lets the compressor run off of the car's 12v power outlet (nee cigarette lighter). As a bonus, it includes four nice metal tire valve caps to make your car feel like it went to the spa, or something like that.
My excitement paid off. The iCarmaint compressor filled my tires surprisingly quickly and is light and easy to tote around in its carrying case. I was able to fill relatively low tires on multiple cars before I exhausted the battery. I was impressed that even a mostly flat tire seemed to be no issue for the diminutive compressor.
It even has a little flash light to help you fill tires in the dark.
Having a rechargeable compressor is so nice compared to one plugged into electricity or your car. Unlike the portable pumps of yesteryear, you don't have to have the car running or worry about the door closing and pinching the power cord. I love that! And unlike a big, home compressor, you don't have to haul out extension cords to get it to your car or give up precious space in your garage to keep it within tire's reach.
Like the "better" gas station air pumps, it lets you set the pressure you want and then stops when it reaches the right setting. Its read of pressure appears accurate in my testing. It can also just check tire pressure on its digital readout if your car doesn't do that for you. The LCD screen is lit for viewing at night or in a dark garage.
Next time I need air before hitting the road this summer, on a rainy day over the fall or a blustery day come winter, I'll be filling my tires in the comfort of my own garage and at the rate they charge for air now around here, it really will pay for itself within a few years.
It certainly will in reduced stress. (iCarmaint Tire Inflator/Air Compressor, $47.99 after coupon on Amazon.)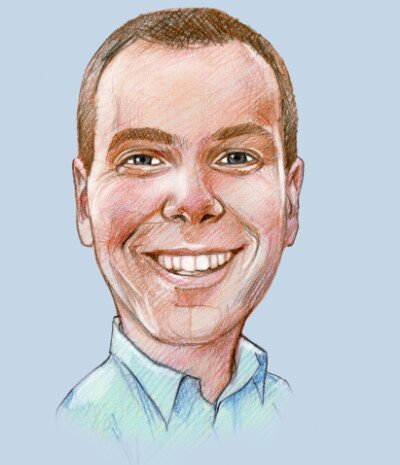 Timothy R. Butler is Editor-in-Chief of Open for Business. He also serves as a pastor at Little Hills Church and FaithTree Christian Fellowship.