Dec 18, 2021
A Premium Board Squarely Aimed at Typists
Nearly twenty years ago, the great mechanical keyboards of early computing were largely forgotten, spoken of in reverent tones by the faithful few who clung to them in a sea of mushy, but cheap successors. Das Keyboard stood out as a counterpoint, an attempt to offer a modern, mainstream-friendly board with mechanical switches years before the current resurgence took hold. Do its boards still hold up in a more competitive landscape? And, given that it is Christmastime, would a Das Keyboard make a nice gift?
Today we are in something of a renaissance for mechanical boards, as testified by Kickstarter-fueled companies whose products I've recently reviewed, such as Epomaker and Keychron. Surely part of the interest that has brought about these new contenders can be pointed back at Metadot's Das Keyboard, first launched in 2005.
My familiarity with Metadot goes back to before they made a keyboard, oddly enough. The company also makes a number of software products and one of their past Free Software projects, Metadot Groupware Server, served as the original foundation for our sister site FaithTree and also won one of our Open Choice awards years ago.
Needless to say, Metadot has been around a long time and there's something to be said for their longevity and that of their keyboard line. As I reviewed more recent contenders for OFB Labs, I reached out to Metadot and they sent over a Das Keyboard 4 Professional for Mac (Affiliate Link), so we could put it head-to-head with its rivals. Let's call it "4 Pro" for short.
Like is true of most keyboard makers these days, Metadot offers a dizzying array of similar models. The 4 Pro represents something of the middle of the Metadot lineup, towards the high end of the "4" series that uses Cherry MX switches, but lacking the backlighting and "smart" functions of the company's newer "Q" line (confusingly there is a "4Q," which blends the two lines).
The Das Keyboard site claims these keyboards would work well as a weapon to fend off zombies and then write about surviving the zombie apocalypse afterward. Lacking available test zombies, I cannot speak to the specific claim, but the weight and robust construction of this keyboard is immediately apparent.
The substantial top panel that frames the keyboard is made of anodized aluminum and the rest of the chassis is remarkably rigid. As I picked it up and felt it for the first time, I immediately thought of my IBM Model M, which is about as high of praise as I can give for build quality.
Unlike the Model M, though, the Das Keyboard is decidedly more modern in appearance and features. The 4 Pro can blend into an office setting without making an unwanted "gamer vibe" statement, but neither does it look antiquated or bland. The aluminum face gives it just the right dash of character. I appreciate that the 4 Pro's bespoke typeface for the key legends is pleasant, clean and understated.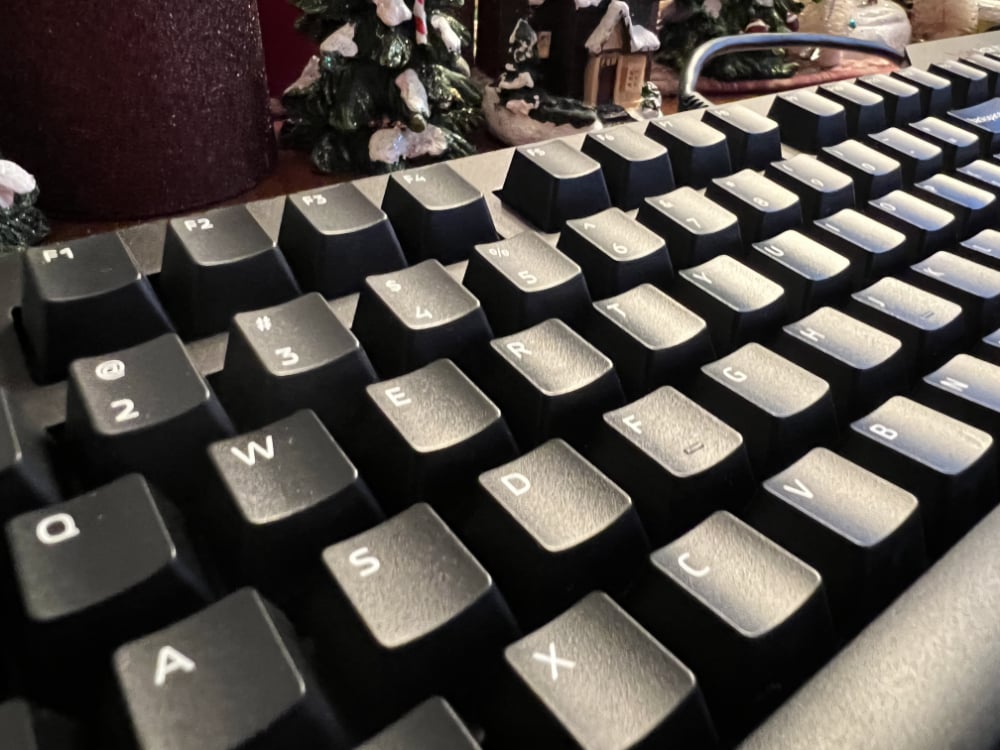 The keycaps have an attractive minimalism to their typeface. (Credit: Timothy R. Butler)
Opting for a classic 104-key layout with full numpad, the Das Keyboard 4 line is quite wide compared to the increasingly prevalent compact boards that mimic a laptop keyboard. The larger layout can be a challenge on a crowded desk, but it also felt very spacious and comfortable to type on. And, unlike, my more compact board, I didn't find myself accidentally hitting unintended keys, since the main QWERTY area is given room to be separated from the other keys.
As a Mac-specific model, the 4 Pro I tested came out of the box with Mac-specific keys and, after the standard MacOS setup dialog for a newly attached keyboard, everything just worked. Unlike most mechanical keyboards today, the Das Keyboard 4 line is delineated into distinct Windows and Mac offerings, so if you are a PC user, the nearly identical Pro (sans "for Mac") suffix offers the same hardware benefits but with appropriate keys for your system.
I have outlined the benefits of a mechanical keyboard's typing experience previously and this is a keyboard where those benefits are especially apparent. Like most of the keyboards I have been testing, I chose to test the 4 Pro configured with Blue switches. Blues are typing (as opposed to gaming) focused, with a distinctively clicky feel and sound.
The 4 Pro ups the ante over many of its peers by sporting genuine Cherry MX switches instead of the more common clones by Gateron. While the Blue switches from both Cherry and Gateron are quite similar, I find the Cherry MX mechanism seems to be ever slightly more refined.
The switch choice compliments the firm build of the keyboard, creating one of the most solid typing experiences I have ever encountered. I have used Cherry switches in other nice, but more plasticky keyboards and Metadot's sturdy frame makes a real difference. The result is a keyboard that feels confident and incredibly satisfying to type on. The way the thwack of the keys resonates within the 4 Pro's robust casing is likewise particularly pleasant.
I have another Cherry MX Blue-based keyboard I'm testing that seemed distractingly plasticky both tactilely and audibly when I used it immediately after spending time with the 4 Pro.
How much difference does the robustness of chassis build make? If you've ever used a really fine DSLR camera and noticed how rigid and free of "creakiness" it is compared to a normal point and shoot camera, picture that with a keyboard. Or if you've ever noticed how much more solid a luxury car's doors and handles feel compared to just a nice, mainstream car's, picture that.
Das Keyboard's lack of creaks, squeaks and other flimsy annoyances reminds me of such finely made products.
There's something to be said for using a finely crafted instrument for one's professional work and so, as a writer, the allure of a keyboard where the keys travel impeccably to a satisfying click while the rest of the device feels utterly immovable is a delight.
It makes a difference: I found myself typing at a noticeably faster clip on the 4 Pro than my usual, more average mechanical keyboard. Apparently, Metadot is confident in this, as they host a "typing race" game where you can test your speed and face off against other racers.
When it comes to typing, Das Keyboard feels like a throwback to a better past era of keyboards, but it has some novel tricks, too.
To my knowledge, the Das Keyboard line was the first to introduce a volume wheel instead of the more standard "multimedia keys." While multimedia keys made a fine way to better use the function row on a keyboard, they aren't necessarily the optimal way to handle their tasks. A knob on the keyboard makes it easier to adjust volume without having to glance at the keyboard, just as you've liked changed the volume on your car stereo thousands of times without ever glancing away from the road.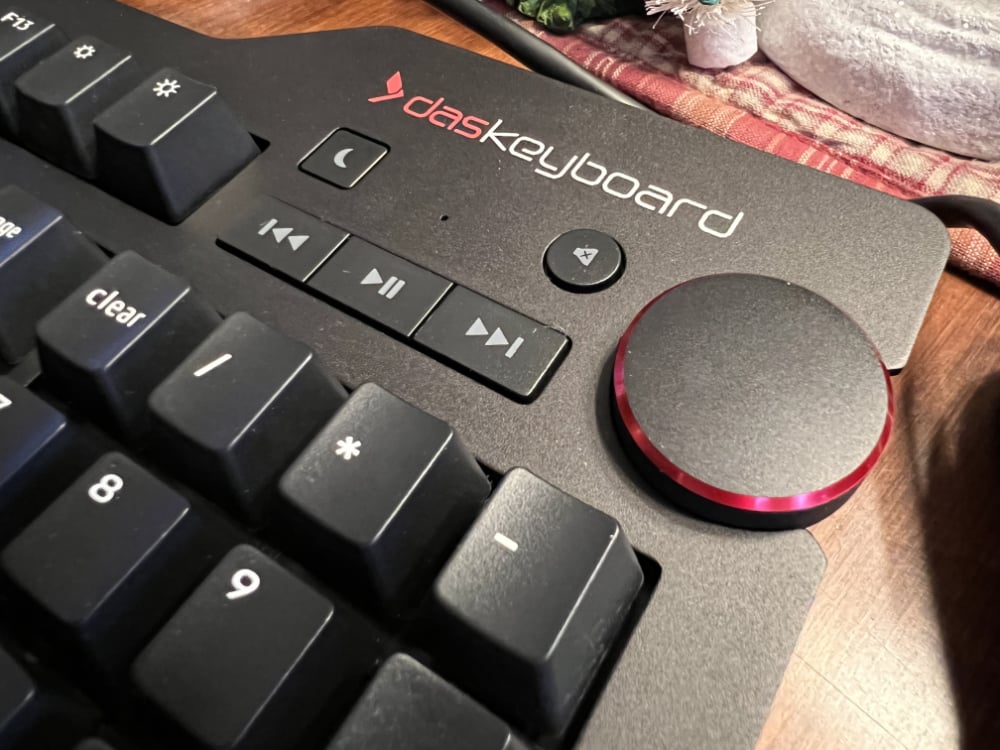 The multimedia cluster is dominated by the convenient volume wheel. Back, next, mute and sleep buttons also make their appearance here. (Credit: Timothy R. Butler)
The other multimedia keys are tucked next to the volume wheel, flush to the face of the keyboard. A sleep button is also nearby, able to put the computer to sleep with just a slightly extended press or call up the power down dialog box after a longer press.
The keyboard also offers a two port USB 3.0 hub built-in, which is handy, especially if your computer has a limited number of USB ports. I like having a hub right on the keyboard for quickly connecting storage devices such as flash drives.
Instead of the traditional feet to elevate the board to a comfortable slant, Metadot did something rather unique that is worth mentioning: they made a magnetically attached ruler that serves as the foot. I've kept a small ruler tucked under my keyboard for years (and used it more frequently than you might expect), so seeing a ruler made a part of a keyboard seems like positive genius to me.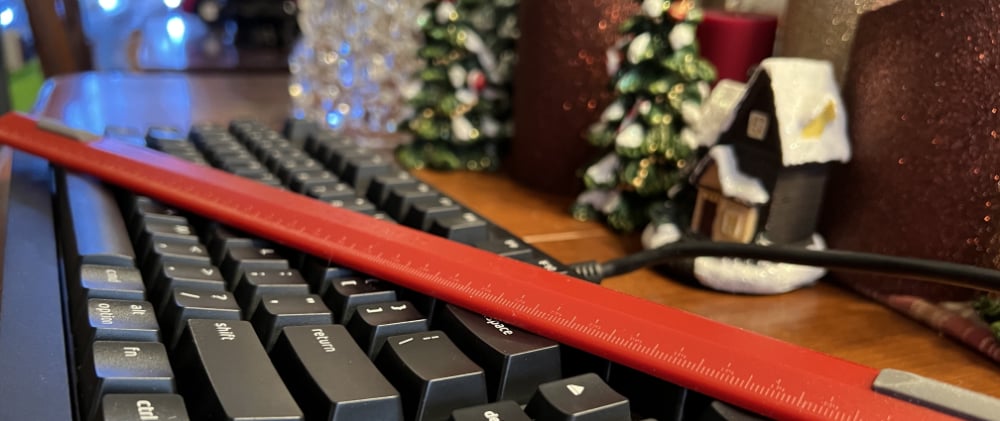 The keyboard's foot-turned-ruler magnetically attaches to the 4 Pro's bottom when you don't need it and detaches whenever you need to measure something. (Credit: Timothy R. Butler)
The 4 Pro is a well built keyboard with a few novel features, to boot. Does that mean it wipes up the competition such as the Epomaker and Keychron boards I've previously reviewed? As with the other boards I have reviewed, it isn't quite that simple and the answer boils down to what tradeoffs make sense for your needs.
Part of the old school nature of the 4 Pro is the lack of the bells and whistles many of its newer competitors (or its own higher end "Q" siblings) offer. For example, the board lacks any sort of keymapping function if you want to setup macros for repeated keystroke combinations or change what the different keys do. This is not a particularly big deal for me, but for some users it might be a dealbreaker.
Also missing is the backlighting that most keyboards north of $100 — and many for quite a bit less — offer. Having used Apple laptops with backlit keys for nearly two decades, the absence is noticeable. As a touch typist, backlighting is not a big deal for me, although it can be helpful when searching for less common symbols and keys. I also just enjoy a nice, monochromatically glow from my keyboard on a purely aesthetic level.
Depending on your desk arrangement, it is also worth noting this keyboard is wired-only (no Bluetooth) and the cable is not detachable, unlike the other keyboards we have in the OFB Labs. In the rapid transition to USB Type-C, especially on Macs, it is unfortunate that the cable is not swappable and it retains the older USB Type-A connector. A cheap adapter will connect it to a modern Mac, but that's unfortunate on a premium keyboard.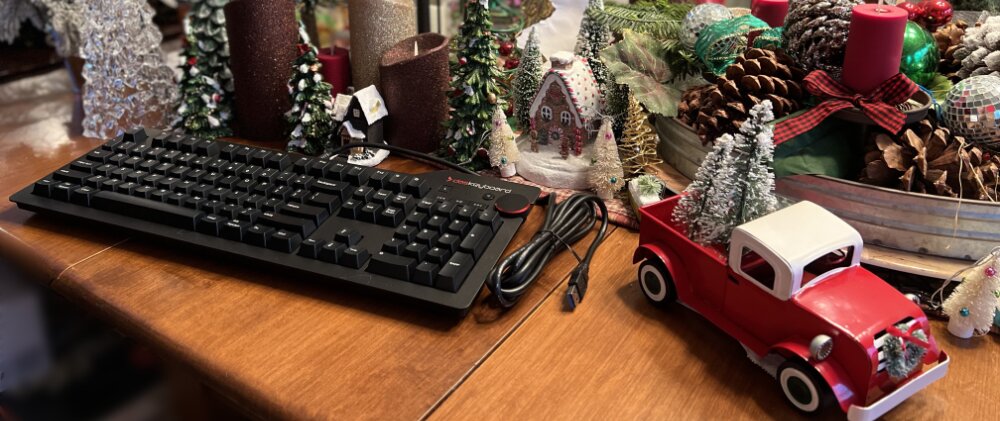 Yes, the 4 Pro would look very nice under the tree as a gift. Note the attached, yet generously long cable. (Credit: Timothy R. Butler)
A final headscratcher, given Metadot's focus on quality materials that I've already praised quite a bit. Instead of more durable PBT keycaps, the 4 Pro uses ABS keycaps like those on lower end boards. As I noted when I criticized Keychron for the same design decision, this means the keycaps will start to smooth out and shine over time. The company also opted to silkscreen on that lovely minimalistic typeface for legends I noted above, rather than using more durable doubleshot or dye sublimated legends common to premium keyboards. The company points to a UV hard coating as aiding in durability, something only long-term usage would allow us to test, but I'll just note as I did with the Keychron K2 that I would love to see a move to PBT.
(Metadot does sell an add-on PBT keycap set for $40, but that set lacks the Mac specific keys that I personally really appreciate about this board.)
Let's be blunt: these are some real downsides. But, after I considered them, I kept returning to just how nice it is to type on this keyboard. It is hard to ding a keyboard that is such a pleasure to type on.
This is a typist's keyboard.
Does it hold up in a very competitive arena? Does it make that perfect Christmas gift for your favorite typist? Sure, it has the limitations I have just outlined, but if you or the person you are shopping for this Christmas can live with those, you get something pretty special in exchange: a keyboard that is a touch typist's dream to type on.
If a keyboard is going to be good at one thing, typing is a pretty good thing to be good at (Metadot Corp., $169 on Amazon [Affiliate Link]).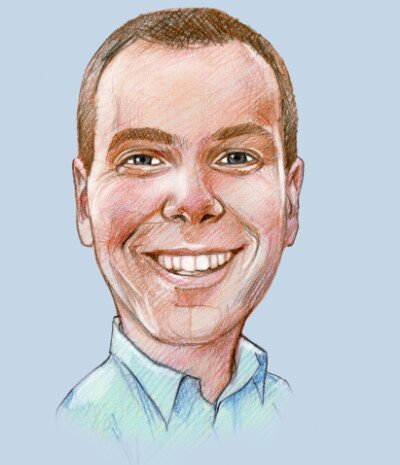 Timothy R. Butler is Editor-in-Chief of Open for Business. He also serves as a pastor at Little Hills Church and FaithTree Christian Fellowship.